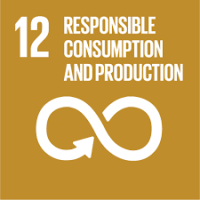 Resource Efficiency
Creating more with less
Resource efficiency is defined by the United Nations as "reducing the environmental impact of the consumption and production of goods and services over their full life cycle"
The Story of Stuff 

(Annie Leonard)
In the Waste & Resources Action Programme's (WRAP) 2009 research report "Meeting the UK Climate Challenge: The Contribution of resource Efficiency" they identified 13 key strategies which could affect a number of industry sectors or household product groups. For production they relate to a change in the efficiency of UK production or production structure, and on consumption, they relate to the level of household consumption or the composition of the household purchases of both domestic and imported products.
Production
Lean Production (e.g. lightweighting)
Material Substitution
Waste Reduction
Waste Recycling
Dematerialisation of Service Sector (e.g. implementing resource effciency measures)
Sustainable Building (e.g. new build)
Efficient use of existing infrastructure
Consumption
Lifetime Optimisation (e.g. using goods for their technical lifetime)
Goods to Services (e.g. renting instead of buying some products)

Reducing Food Waste

Dietary Changes

Restorative Economy (e.g. reuse and refurbishment)

Public Sector Procurement

In their follow on 2010 research report "Securing the Future - The Role of Resource Efficiency" WRAP concluded that the 13 identified strategies to improve resource efficiency had complimentary benefits of reduced greenhouse gas emissions, resource use, water use and ecological footprint. It also confirmed the findings of the previous study that both production and consumption strategies are important in addressing these environmental issues. It also showed that resource efficiency could have an important role to play in addressing increasing resource security issues.

The Story of Solutions  

(Annie Leonard)
Waste Management  

Our experienced auditors can assist you with assessing the value and efficiency of your existing watse contract, demonstrating Legal Compliance and Duty of Care, Pollution Prevention audits, reports and action plans of your current waste management activities.

Waste management is crucial to reducing your organisation's impact upon the environment. It is also a fundamental requirement in achieving efficient cost savings and a better financial return for your business.

Our experienced advisors can assist you develop your waste management strategy embedding the waste hierarchy within the culture of your business, instigating staff and organisational behavioir change and engaging with the Circular Economy if appropriate. 
The Waste Hierarchy
Many businesses are unaware of how significantly waste impacts on their bottom line. As the demand for materials grows worldwide, raising input costs, it makes sense for businesses to adopt the waste hierarchy.
Article 4 of the revised EU Waste Framework Directive (Directive 2008/98/EC) sets out five steps for dealing with waste, ranked according to environmental impact - the 'waste hierarchy'.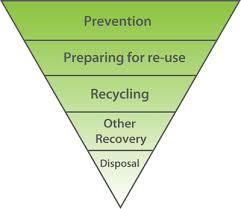 Resource Efficiency
The true cost of waste is not simply the cost of discarded materials - it encompasses inefficient use of raw materials, unnecessary use of energy and water, faulty products, waste disposal of by-products, waste
treatment and wasted labour. The actual cost of such waste for UK companies is typically 4 - 5% of turnover, and can be as high as 10%.

Through the delivery of a resource efficiency review, businesses will benefit from: Increased profitability, reduced risks, reduced environmental impact,  improved productivity, compliance with environmental legislation,  and potential enhanced reputation
Contact us Now